---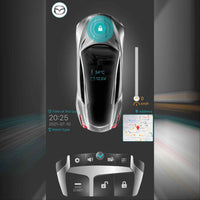 Sale
Mazda Skyactiv Remote Start Kit
Sale price ₱13,000.00 Regular price ₱24,000.00
This kit is only applicable to old style Skyactiv Key (Oblong Shaped Key)
Powered by 4G/LTE Technology
Plug and play installation
NO Separate Key, NO Programming, NO Limited Range!

With security settings Anti theft

GPS Tracking real time location with GPS log

Unlock/Lock/Start Engine/Off Engine your car WORLDWIDE!

Mobile APP is available for iOS and Android with built in Voltmeter, Speedometer, Cabin Temperature, Car Status, GPS Map and other several useful functions!

Not compatible to Mazda 3 2020 / CX30 / MX30
Open your key and check if your key is MZD01 or MZD02. Usually MZD01 are for old model while MZD02 are for newer models.
Please also check your key if the 5 dots are present in the right location (Red Arrow). If not sure, contact us in FB or IG
MZD01 (One side is curve)
MZD02 (All sides are flat)
Take note that one of your spare keys is needed to be loaded and installed inside the Remote Start Kit.
Just put the other key inside your bag and let your smartphone control your car.
You need to purchase a 4G SIM card. It will be inserted to the kit as well. This will make your mobile phone communicates with the kit and accept command.
The kit is dependent on the signal of the telecom provider. So choose which one has a better signal reception in your area.
The kit will be installed below the steering wheel. Very easy to install and it will take around 30mins.
FAQ
Q: I remotely started my car while in my office? Is the door will get unlock?
A: No, all the doors are still locked. To open the door you need to press the unlock button in the app. Key won't work as well (Safety feature)
Q: I am traveling to Japan and my car is in Canada, can i still remote start my car while i am in Japan?
A: Yes, you can start, stop, unlock/lock door while outside the country. It has an auto-off engine feature. 
Q: Can i monitor my vehicle location in real time?
A: Yes, it has a built in GPS tracker and Map that you can see where your car is located.
Q: Can i see my the status of my car?
A: Yes, the car logo in the App will change, for example if the engine is running, the car has a glowing aura. If the front driver door is open, it will also display in the app.
If you still have questions, contact us in FB or IG.