---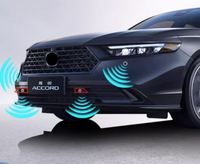 Sale
Accord 2023 OEM Proximity Reverse Sensor Kit
Sale price ₱9,500.00 Regular price ₱14,000.00
The 11th Gen Honda Accord was designed to have a proximity sensor in the front and rear bumper.
It was removed and not offered as standard feature in some countries but this kit will enable the function in OEM Style.
Accord kit includes 6 pcs body colored sensors and 2 pcs matte black sensors.
IMPORTANT:
Please write your car color in the cart note section area. Every country has different set of colors for Accord. Please contact us to confirm the color.
2pcs Matte Black/ 2pcs body colored sensors in Front and 4 pcs Body Colored Sensors for the Rear Bumper
When the bumper is removed, the factory already mark the sensor location showing below
Slim type sensors with Original Honda Paint

Clean and neat looking sensor.
1pc Control Box Module
8pcs Slim Type sensor (4pcs only if front or rear only)
8pcs Sensor Bracket 

 

(4pcs only if front or rear only)

2 sets of harness for front and rear 

 

(1 set only if front or rear only)

1pc OEM Switch Button
1pc Drill bit hole tool