---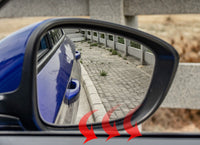 Sale
Honda Side Mirror Reverse Auto Tilting
Sale price ₱6,500.00 Regular price ₱10,000.00
Mirror Lens Auto Tilt when the Shifter is in Reverse Mode (Passenger Side Only)

This will help you see the blindspot area in the bottom area of the road. 
Added convenience and safety feature for your car. 
No need to adjust the mirror manually when reversing. 
Also compatible to Civic 10-11th Gen and CRV 17-21
Note: If you want to enable the function in driver side as well, just purchase 2 sets.
Normal Mode Mirror Angle vs Auto Tilt in Reverse Mode
Mirror Lens tilts down when in Reverse Gear
Auto return to normal view when the Shifter is back to Park or Drive Mode
Installation Guide (Easy)
1. Install the bigger black module to the front passenger door and connect the side mirror plug
2. Insert the 2 pins as shown below to the gray plug. Secure with cable tie.
(Red to Green and Black to Black) 
3. Install the smaller black module to the reverse plug in the trunk. 
Secure with cable tie.
Red to Red and Black to Black. Leave the blue unconnected.
4. Return back all the trims and test. Can be installed in driver side as well. Just purchase another set.
.
For Civic with BSI, it uses a different plug so we need to rewire the 3 tilting motor mirror wires. 
Wiring diagram for OEM Plug, check the wire position and connect the 3 wires (Green - Yellow - Orange) accordingly.