---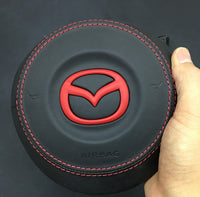 Sale
Customized Airbag Cover for Mazda Skyactiv
Sale price ₱6,500.00 Regular price ₱10,000.00
Customized your airbag cover available in Leather and Suede Material
The airbag will still trigger and function well incase it was activated.
It will rip the thin material due to immense pressure from the deployment.
Logo can be customized to carbon fiber, just tell us the specs you want in the Note Area in Cart Section. We will send original chrome Mazda logo by default.
Suede, Leather and stitches can be customized as well in different colors.

To replace the airbag cover, you need to remove the airbag and just use a flat screw driver to unclip the airbag cover in all sides. It s easy and not that complicated.
We also do other car models, just contact us in FB or IG for more info!
NOTE: We don't have airbag cover for MAZDA 6 and CX9. Please do not purchase.
Old Airbag (Black Suede, Red Stitches, Carbon Fiber Logo)
Old Airbag (Black Leather, Red Stitches, Matte Red logo Logo)
New Airbag (Black Suede, Red Stitches, Red Carbon Fiber Logo)
New Airbag (Black Leather, Red Stitches, Red Carbon Fiber Logo)

New Airbag (Red Leather, Red Stitches, Red Carbon Fiber Logo)
New Airbag with Chrome (Black Suede, Black Stitches, Default Mazda logo, Default Chrome Ring)
Next Generation Airbag 
Black leather with Dark Gray Stitches and Original Chrome Logo