---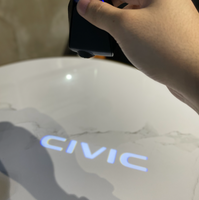 Sale
Honda Next Generation Door Welcome Light
Sale price ₱2,000.00 Regular price ₱3,500.00
Available in different Official Honda Model logo
Cool effect whenever you open your door
Updates:
The package now includes CAN plug cable. No need to connect the wire in the front dome light. CAN plug socket is located below the steering wheel beside the OBD2 port.
Stick vs Drill Type
Stick type

will paste the lamp in the door panel using 3M tape. Need to charge the built-in battery when the power runs out. Advantage, easy and fast to install.
Drill type

will drill a hole in the door plastic panel bottom area and mount the lamp there. 

N

eat looking and it avoid the hassle of charging the battery.

Run wire from the door then going inside the car below the steering wheel. CAN plug is beside the OBD2 port.

The CAN plug has the Welcome Light Power effect (Auto On and Off when you Open/Close the door).
Rechargeable via USB cable
Easy to install with double sided tape
With Magnetic Mount Bracket for easy detachment
Single charge can last up to 3-4 weeks
Auto Off / Auto On with Infrared Proximity Sensor
Package includes:
2pcs Lamp with Built-in battery
2pcs Double sided tape
2pcs logo
2pcs Magnetic Mount
1pc USB charging cable
Sample logo:
CIVIC