---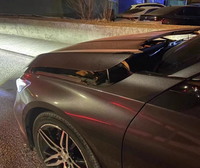 Sale
Honda Pedestrian Hood Pop-up Disabler Kit
Sale price ₱1,800.00 Regular price ₱3,000.00
Honda introduce this feature in their latest line up. This may not be available in some countries. Check your hood if the lifting motor is present.
Hood will automatically pop up if the sensor detects an imminent crash going to happen.
This kit will disable that feature and it wont show any fault code in the instrument cluster.
Once triggered, the hood bracket will be destroyed and hood assembly needs to be replaced. An expensive repair which will become a headache later on.
The problem is sometimes the sensor is sending false signal and the hood is popping up even the detected danger is still far or not even present!
To install, unplug the original socket and plug our kit in BOTH sides of the motor.
Package includes 2pcs disabler module kit. 
Installation Guide - Easy