---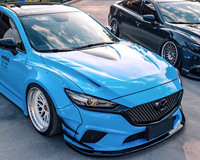 Sale
Mazda 6 KODO Carbon Fiber RX Hood
Sale price ₱25,000.00 Regular price ₱35,000.00
Hood Replacement for Mazda 6 12-22
Available in different material

The "Rotor/RX" element of Mazda's spiritual power is integrated into the center top of the hood. There is a wind-impact air intake on each side of the hood.
Both sides of the hood are equipped with negative pressure gills, which can quickly discharge the heat from the engine compartment during dynamic driving.
When the vehicle is running, it hits cold air to cool the engine room, and the left side The impact air port of the vehicle is located on the upper part of the air collection box, so that the intake air temperature of the vehicle can be quickly lowered during dynamic driving, so as to improve the charging efficiency of the engine, thereby increasing the horsepower output of the engine.
Last time it was tested, the ambient temperature was 35 degrees, and when the dynamic driving was 80KM/H, the IAT could drop from 64 degrees to about 40 degrees. It can be seen that the new KODO cover has a strong heat exchange capacity
Weight reduction of 7KG, using advanced molding technology and excellent lightweight material layout technology, the goal of weight reduction of 7KG can be achieved.

 

The weight reduction at the front of the car brings huge benefits to the handling.
FRP + Carbon Fiber Center
We ship it in full enclosed wood crate box and with carton, bubble wrap and foam inside for ultimate protection.