---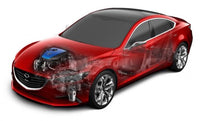 Sale
Mazda i-ELOOP Capacitor Replacement
Sale price ₱75,000.00 Regular price ₱150,000.00
Brand New
Genuine Parts from Mazda Factory

Available for Mazda 3, Mazda 6 and CX5
MX5 capacitor is more expensive.
Replace it if your Mazda i-Eloop has already experiencing a problem. It will show an error logo in your cluster and an error message "i-ELOOP Inspection Required" for other models.
If your battery, charging system and alternator are still good and you still getting the i-Eloop problem then the last culprit is the capacitor. It needs to be replaced.
Installation Guide (Please wear safety glove to avoid possible electric shock)
Disconnect the battery
Remove the old capacitor 
Install the new capacitor (check if all wires are properly connected)
Reconnect the battery
Start the engine for 5 minutes (Charge the capacitor)
If there are fault code appear in the cluster, clear it using Forscan
Disconnect the battery for 10 minutes
Reconnect the battery
Put the car in ACC mode
Reset iStop (Contact us how)
Restart the car
Test drive and confirm the function of iStop and i-ELOOP